September 8, 2023

Rodney Reinsma

0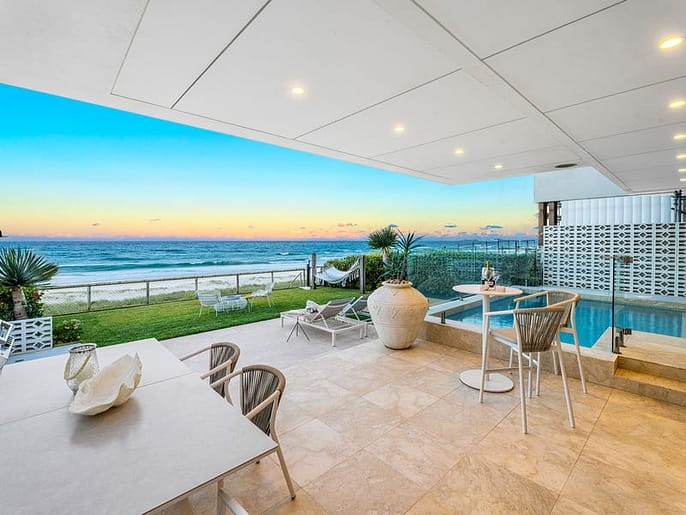 Imagine waking up to the soothing sound of waves crashing on the shore, stepping onto your balcony to witness the golden sunrise over the Pacific Ocean, and having direct access to pristine sandy beaches – all from the comfort of your own home. This dreamy scenario is the reality for those who invest in beachfront properties on the Gold Coast.
In this blog post, we'll delve into the significant influence of beachfront living on Gold Coast investments, exploring why these properties are highly sought after by both investors and homeowners alike.
1. Premium Property Values:
Beachfront properties on the Gold Coast often come with premium price tags. The breathtaking views and immediate access to the beach contribute to their high market value.
Tip: Work with a buyer's agent who specialises in beachfront properties to ensure you get the best value for your investment.
2. Attractive Rental Income:
The Gold Coast's popularity as a tourist destination translates into strong rental demand for beachfront properties, especially during peak seasons.
Tip: A buyer's agent can help you identify properties with a history of high rental income and assist in securing reliable tenants.
3. Lifestyle Appeal:
Beachfront living offers a unique lifestyle that attracts both tenants and homeowners. The proximity to the beach, water activities, and breathtaking views are major selling points.
Tip: A buyer's agent can help you find properties that align with your lifestyle preferences and investment goals.
4. Scarcity and Limited Supply:
Prime beachfront real estate is limited, and strict regulations can restrict new developments, creating scarcity in the market.
Tip: A buyer's agent can keep you informed about upcoming listings and help you seize opportunities as they arise.
5. Resilience to Market Fluctuations:
Historically, beachfront properties on the Gold Coast have demonstrated resilience to market downturns, thanks to their unique appeal.
Tip: Consult with a buyer's agent to assess the long-term investment potential of beachfront properties in your portfolio.
6. Local Insights and Market Knowledge:
A buyer's agent with local expertise can provide invaluable insights into the Gold Coast market, helping you make well-informed decisions.
Tip: Leverage the knowledge of a local buyer's agent to identify emerging trends and investment hotspots.
7. Negotiation Expertise:
Negotiating a fair deal for a beachfront property can be challenging. A skilled buyer's agent can negotiate on your behalf to secure the best terms.
Tip: Trust your buyer's agent's negotiation skills to help you acquire your dream beachfront investment at the right price.
Beachfront living on the Gold Coast has a profound influence on property investments, offering premium values, attractive rental income, a coveted lifestyle, and resilience to market fluctuations. To navigate this unique market successfully, partnering with a knowledgeable buyer's agent is invaluable. Their local insights, negotiation expertise, and understanding of the beachfront property landscape can help you make the most of your investment opportunities and ensure your slice of paradise is both a dream come true and a sound financial decision.