September 22, 2023

Rodney Reinsma

0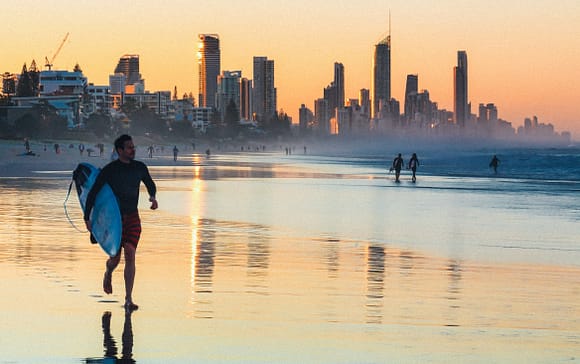 Nestled along the stunning coastline of Queensland, the Gold Coast is renowned for its picturesque beaches, vibrant culture, and a lifestyle that's nothing short of extraordinary. When considering a property purchase in this idyllic region, it's essential to understand how the Gold Coast lifestyle can significantly impact your property buying decision.
In this blog post, we'll explore how the lifestyle factors of the Gold Coast should influence your property buying choices.
1. Beachfront Bliss: Living on the Coast
One of the defining features of the Gold Coast lifestyle is its access to pristine beaches. For many, the dream of waking up to the sound of waves crashing on the shore becomes a reality here. If you're a beach lover, investing in a beachfront property can provide not only breathtaking views but also an unparalleled beach lifestyle.
2. Water Activities Galore
The Gold Coast is a water lover's paradise. From surfing and paddleboarding to boating and fishing, the region offers a wide array of aquatic activities. Consider proximity to waterways and marinas when choosing your property, especially if water-based hobbies are a part of your lifestyle.
3. Dining and Entertainment
The Gold Coast boasts a thriving culinary scene and a bustling nightlife. Your property's location can greatly affect your access to these amenities. Do you want to be within walking distance of trendy restaurants and bars, or do you prefer a quieter, residential neighbourhood?
4. Family-Friendly Amenities
For families, the Gold Coast offers a range of family-friendly attractions, parks, and schools. Consider the availability of quality educational institutions and recreational facilities when selecting a property that suits your family's lifestyle.
5. Outdoor Adventures
The Gold Coast's natural beauty extends beyond its beaches. National parks, hiking trails, and outdoor adventure opportunities abound. If you're an outdoor enthusiast, proximity to these attractions should be a factor in your property search.
6. Festivals and Events
The Gold Coast hosts a wide variety of festivals, events, and cultural activities throughout the year. Living near event venues and cultural hubs can provide you with easy access to the region's vibrant social calendar.
7. Commute and Accessibility
Your daily commute and accessibility to public transportation should align with your desired lifestyle. Consider how far you're willing to travel for work, entertainment, and other daily activities when choosing your property's location.
8. Investment Potential
The Gold Coast lifestyle isn't just about leisure; it's also an attractive destination for investors. Properties in areas with high tourist demand can offer excellent income potential through short-term rentals like Airbnb.
9. Safety and Security
Safety is a critical aspect of any lifestyle. Research the safety of neighbourhoods you're interested in to ensure that your chosen property aligns with your security needs and peace of mind.
10. Future Growth and Development
Keep an eye on the Gold Coast's future development plans. Infrastructure improvements, new amenities, and urban development projects can significantly impact property values and your overall lifestyle experience.
The Gold Coast lifestyle is a compelling factor that should play a pivotal role in your property buying decision. Take the time to evaluate your personal preferences, interests, and priorities to find the perfect property that not only meets your housing needs but also enhances your quality of life. The Gold Coast's unique blend of natural beauty, recreational opportunities, and cultural experiences makes it a truly exceptional place to call home.